Article
3rd-Party Integrations in Microsoft Windows Virtual Desktop
In just a few months we have seen a landslide in the way we work. The pandemic caused an enormous boost in virtual workspaces and with it the use of Microsoft Windows Virtual Desktop (WVD). Already this spring, Simon Binder, endpoint manager at Microsoft, tweeted that there are up to six times as many users active today than expected during the whole of 2020.
Good news for Service Providers to facilitate their end customers with fast and scalable workplaces in the cloud with WVD. But how do you integrate the existing environments of your end customers? The multi-vendor technologies and processes they already have in place? Let's take a look at 3rd-party integrations.
Windows Virtual Desktop, a recap
Microsoft Windows Virtual Desktop is a platform service to enable secure remote work from anywhere. For Service Providers, the innovation is not so much in the technology that Microsoft has now set up on a large scale, but much more in the fact that you no longer have to build, manage and refresh the infrastructure yourself; the entire backend is taken care off by Azure. In fact, you only use the functionality to build and unlock a desktop or virtual workspace for your end customers. The three biggest advantages of WVD for most Service Providers are that they are able to:
Deploy and scale in days instead of months, because you no longer have to rely on hardware.
Deliver a fully optimized Windows 10 Multi-user experience on one VM instead of every Windows 10 session on an individual VM with on-premise Windows Server.
Save on infrastructure and IT, since WVD is a free service with your existing Microsoft 365 or Windows per-user license.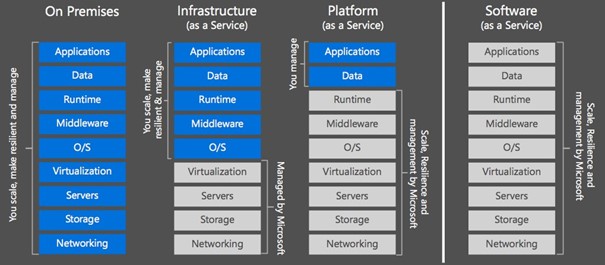 (source: Microsoft)
Scenario thinking
Since Windows Virtual Desktop only runs on Azure – there is no on-premise version – WVD is an attractive platform for Service Providers who are considering offering more services in the cloud or are already doing so. There are several scenarios. Some Service Providers want to extend their own environment in the cloud with WVD. Others want to deploy WVD with a new customer or project to take the first steps toward cloud services. And yet another group extends their business offering by taking advantage of the huge increase in remote work and the need for quickly provisioned, scalable, flexible virtual workspaces with WVD.
Whatever the scenario, every company has its own technologies and processes to work with and usually wants to keep those, because there is a lot of money, knowledge and experience involved. Each individual scenario has its own considerations for successful deployment of Windows Virtual Desktop. Such as?
Considerations such as the extent to which the workspace interferes with existing business processes. Or whether there are software investments or employee training that have not yet been written off. There are considerations concerning your end customers. Are they ready for working from home, do they have the devices for it? Are they going to work on thin clients, laptops or with remote apps? That's where business consultancy comes in. Service Providers who only want to offer the back end as a service have other considerations in turn. Security, for example, which then becomes a shared responsibility with their end customers.
Each individual scenario has its own considerations for successful deployment of to Windows Virtual Desktop. MS approved 3rd-party integrations provide attractive solutions.
3rd-party integration with Windows Virtual Desktop
Responding to various considerations, increasingly more vendors offer their targeted solutions for WVD as so-called 3rd-party integrations and have become approved software and service partners of Microsoft. Roughly speaking, the list of approved partners can be divided into five categories:
Value Added Resellers who have built a fully managed service around WVD.
Vendors that make management, monitoring and control easier, e.g. Sepago.
Vendors that support hardware issues, such as Dell andLenovo.
Vendors that support peripherals, such as printers and other devices around the workplace, think of ThinPrint or Printix.
Vendors that offer applications, e.g. user profiles, such as Lakeside, Liquidware or Ivanti.
Citrix and VMware: two major 3rd-party integrators
Two major 3rd-party integrators and partners of Microsoft who need to be mentioned separately because of their large representation are Citrix and VMware. Both have a large share in existing desktop and app virtualization environments. They deliver their Workspace solutions including support for hybrid deployments, centralized management and advanced tooling now also in combination with Window Virtual Desktop. As a result, you can run VMs in the Azure Cloud and make use of the features that Citrix and VMware offer in their Workspace products. This makes WVD even more interesting for Service Providers.
What's your scenario?
Windows Virtual Desktop is on the rise. More and more service providers and independent software vendors are making their offerings suitable for WVD as 3rd-party integrators. That is why Service Providers (you?) are increasingly looking to WVD to innovate their product or service offering to end customers and transform it to the cloud. We'll help you do that. We know that each scenario is unique and has its own considerations. That's where we can help. By peeling the onion together and asking questions that you might not ask yourself, we come to the solution that best suits you as a Service Provider as well as the end customers you serve.
Watch our free webinars to learn more about cloud transformation and the opportunities of 3rd-party integrations with Windows Virtual Desktop. Or contact us at Insight right away to discuss your scenario and the specific considerations you have around Windows Virtual Desktop for your business.