Cloud Envisioning-workshop
Lär dig en effektiv strategi för molnimplementering och upptäck de många fördelarna med molnet i denna praktiska workshop.
Ett anpassat ramverk för molnanpassning
Att motivera en flytt till molnet är enkelt när du har tydliga och konkreta exempel på hur det kommer att gynna din verksamhet. Vår Cloud Envisioning Workshop kommer att hjälpa dig inför en framgångsrik Cloud Journey.
Våra experter kommer att demonstrera molnstyrning och driftspraxis. Du kommer att vara förberedd på att skapa effektiva affärsfall, kostnadskontrollmodeller och distributionsplaner för molnet.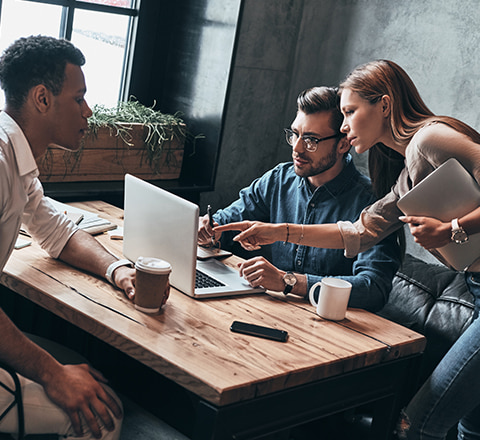 ---
Vi samarbetar med dina stakeholders.
Övergången till molnet kräver ett köp från viktiga personer. Denna workshop visar värdet av molndistribution för:

Business executives
The cloud can shorten your time to market for new services, as well as minimise infrastructure costs.

IT teams
Appropriate governance and operational models enhance overall architecture performance.

Workload owners
Together, we'll discover efficiency and productivity opportunities within cloud platforms.
Expertråd under en interaktiv session
Cloud Envisioning-workshopen är en chans för din organisation att upptäcka nya möjligheter i molnet. Med hjälp av vår rådgivningsprocess kommer du att lära dig hur du minskar antagningsrisk, förbättrar IT-servicenivån och stödjer tillväxt med en effektiv molnstrategi.
Banar väg för molnet
Vi hjälper dig att maximera effekten genom att utvärdera hinder och kompetenser i din nuvarande infrastruktur. För att visa dig hur strategier för molnhantering och policyer fungerar kommer våra arkitekter att implementera en proof-of-concept-arbetsbelastning i infrastruktur tjänster samt plattform tjänster.
Du kommer att lära dig:
Bästa praxis när du skapar en molnkarta
Styrnings- och driftsökningsmodeller
Fördelar med offentliga och hybridmoln
Hur man rationaliserar arbetsbelastning i molnet
---
---