Providing technology that can help successfully manage student lifecycles and performances.
It begins with finding the best students, continues when educators use data analytics to help create the best learning outcomes, and ends with a thorough assessment of institutional performance.

This journey is called the student lifecycle. In order to successfully navigate it, you need the right platform, tools and solutions.
Microsoft and partners offer solutions that can help:
Attract and enroll the best
Identify the right students for your institution
Effectively manage admissions and enrolments
Leverage social media and mobility tools
Use analytics to empower student success
Proactively identify at-risk students
Advance collaboration and data sharing
Elevate your institution's performance
Match institutional goals to individuals and departments
Get integrated, real-time data views
Gain insight to make smarter institution-wide decisions
Foster a high-performance culture
Ensure success throughout the entire student lifecycle
Microsoft's mission is to empower every student on the planet to achieve more.
The core mission is to create immersive and inclusive learning experiences which inspire lifelong learning. Stimulating the development of essential life skills like communication, collaboration, critical thinking, and creativity in students.

Empowering educators to create environments in and out of the classroom, guiding and nurturing student passions, and enabling students to achieve beyond their greatest imaginations: making, designing, inventing and building the future.
Create and share in entirely new ways
Teaching & learning through doing & exploring
Accommodate individual learning needs
Focus on outcomes, not technology
Microsoft Devices for Education
Designed for Education. Engineered by Microsoft.
Surface Hub for education
Surface transforms the way education professionals work. It frees them up from their desks and gives them new ways to engage students, energise the classroom, improve the learning experience and deliver results.
University of Bristol provides its students and teachers with smart, collaborative teaching tools.

Insight introduced Microsoft Surface Hubs for the medical departments and Professional Services to improve collaboration and a better quality teaching experience for students.
Top 5 Reasons Microsoft Technology is the Smart Choice for Schools
1. Microsoft Office skills are critical for top jobs
Help prepare students for the future by trying Office 365 Education, for free.
2. Affordable Windows devices designed for learning
Windows provide the correct device for each learning need. If you need a device to fit your budget, then Windows provides a wide range of affordable devices. Working with a broad range of peripherals to support individual learning styles and existing computing environments.
3. Digital Pens enhance learning, more than keyboards
When it comes to learning, the right tools are critical. Research shows that digital pens more accurately accommodate how we think than keyboards do. This means you can enhance learning and problem-solving by providing digital pens in your classrooms. These are just some of the tools Microsoft offer to encourage deeper learning.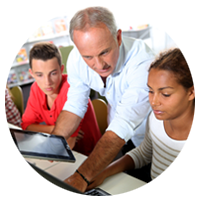 4. Technology skills, curriculum and certification
Students and educators need technology skills to succeed in the digital world. Academic institutions, educators, students and staff all benefit from digital curriculum and certifications for fundamental technology skills, as well as courses critical for success in today's technologically evolving world.
5. Secure & simplified device management across all platforms
Whether it's one classroom, 100 classrooms or a school with thousands of devices, Microsoft empowers schools to deploy and manage devices across all platforms. Deployment can be simplified with deployment costs reduced with strong app and device compatibility.
Transforming the classroom.

Research proves that digital inking saves teachers' time, helps them personalize learning, and improves the overall quality of teaching. The learning experience is better too: students are more engaged, and results improve.
Is Microsoft right for you?
For more information about any of the products or services that Microsoft offers, please contact us and a member of our team will be happy to help.