Article
Boost WVD with Horizon Cloud on Microsoft Azure
Microsoft Windows Virtual Desktop (WVD) offers Service Providers a great opportunity to quickly provision scalable remote workplaces on Azure. Why? Because WVD makes high on-premise investments, non-stop infrastructure management or a long time-to-market a thing of the past, to name but a few advantages. What's more, users will love to work with their hosted desktops. WVD comes with Windows 10 Enterprise multi-session that now supports multiple user desktop sessions on a single VM in the same way as the desktops millions of Windows 10 users already know.
In summary, the three biggest advantages for Service Providers are that Windows Virtual Desktop enables them to:
Deploy and scale in days instead of months, because it eliminates dependence on hardware.
Deliver a fully optimized Windows 10 Multi-user experience on one VM instead of every Windows 10 session on an individual VM with on-premise Windows Server.
Save on infrastructure and IT, since WVD is included in your existing Microsoft 365 or Windows per-user license at no extra cost.
The good news is that Windows Virtual Desktop is not restricted to Microsoft customers only. VMware has partnered with Microsoft to extend the functionality of Windows Virtual Desktop to Horizon Cloud on Microsoft Azure. Now, VMware customers can enjoy the best of enterprise-class functionality with the flexibility of a cloud-native service. Let's take a look at some of the features that are of particular importance to Service Providers. But first in brief: what exactly is Horizon Cloud on Microsoft Azure?
Horizon Cloud on Microsoft Azure in a nutshell
Three years ago, VMware introduced Horizon Cloud on Microsoft Azure as a cloud-native service to quickly deploy remote desktops and applications on Azure while leveraging all of VMware Horizon's features. With the release of version 3.0 of VMware Horizon Cloud on Microsoft Azure, the service now includes Microsoft Windows Virtual Desktop (WVD) support as an integrated part of Horizon Cloud on Microsoft Azure. Following the ongoing partnership between VMware as a virtualization specialist and Microsoft as the largest provider of office software, VMware is an approved Windows Virtual Desktop provider.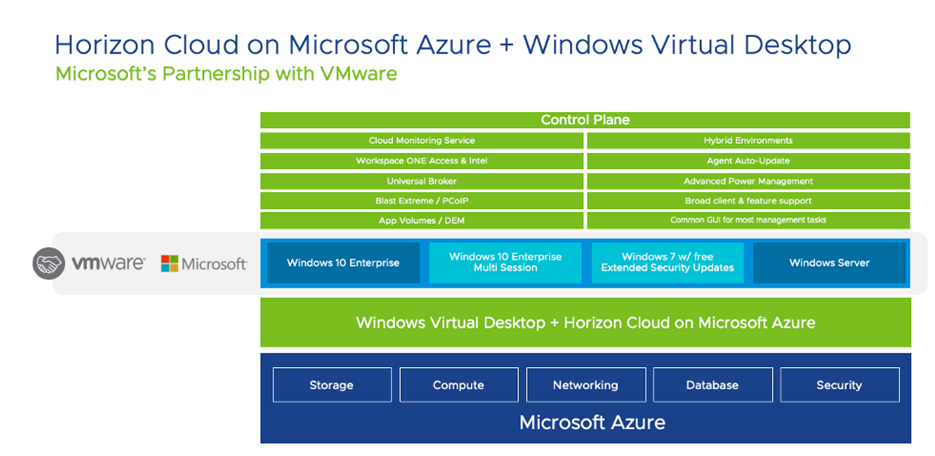 The combined power of Horizon Cloud on Microsoft Azure and Windows Virtual Cloud
While Windows Virtual Desktop in itself offers quite a few attractive features, these are further enhanced with the addition of Horizon Cloud on Microsoft Azure. The combination of the two offers Service Providers a rich set of features in deploying and managing remote workplaces.
1) Independence of 3rd-party tools to provision WVD
As a VMware customer with a Horizon Service contract you already have rights to Horizon Cloud on Microsoft Azure. If you are also entitled to use Windows Virtual Desktop with your Azure subscription, you have an easy, smart and fast interface to deploy WVD. There is no need to use 3rd-party tools.
2) Support for hybrid environments
The majority of Service Providers will have hybrid environments: some resources are running in the cloud, while others are on-premise. Horizon Cloud leverages a control plane that allows Service Providers to deploy manage, maintain, and monitor virtual desktops and applications in hybrid and multi-cloud environments in one central place.
3) Enhanced user experience
Minimizing latency is one of the crucial factors for user experience at remote workstations. Whether they work via a VDI in Azure or locally, or use heavy applications such as Teams or Skype, any delay that occurs when switching between different applications or within the application is one too many. VMware's Blast Extreme and PCoIP protocols deliver a superior user experience regardless of the client, connection, geographic location, workload or endpoint.
4) First-rate security
Privacy (GDPR compliance), data protection and security are top priorities for any Service Provider today. VMware products and protocols are designed to provide end-to-end encryption from laptop to the shared desktop you are running, providing a higher compliance level than in the on-premise environment.
5) Improved management and cost optimization
VMware Horizon Cloud on Microsoft Azure offers extensive features to automate and optimize scalability and management procedures in a smart way and save costs. You can enable or disable capacity on demand, for example to accommodate peak loads or seasonal work, for onboarding, faster development, follow-the-sun principle.
6) Step-by-step migration
Hardly any Service Provider migrates 100% to the cloud at once. Horizon Cloud on Microsoft Azure allows you to migrate at your own pace. Because the infrastructure already exists as a SaaS service, you can easily transfer all or part of the on-premise licenses of individual customers to the cloud in phases, while managing both environments in the same way.
Want to learn more?
These are some of the features of deploying Windows Virtual Desktop with Horizon Cloud on Microsoft Azure. At Insight we talk with many Service Providers every day. That's why we know that each Service Provider and each of your customers have their unique needs, also related to the industry in which you specialize. We see it as our role to help you find the best solution for your individual scenario. We are there to help you increase your productivity and profitability in and with the cloud in the way that's best for your company.
Watch our free webinars to learn more about cloud transformation in general and the benefits of VMware Horizon Cloud on Microsoft Azure in combination with Microsoft Windows Virtual Desktop. Or contact us right away to discuss your business needs in the cloud.